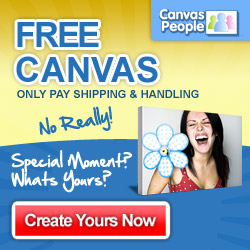 Have you all done this deal yet? Its being offered again...Get a free 8x10 canvas for only the price of shipping (around $15) That is an incredible price for such a cool piece of art for your wall :-) You can go here and create yours!!

If you have done this deal before, you might want to look at this deal. You can go here and get $25 off ANY size canvas and FREE Shipping! This is an awsome deal for people like me who have 4 kids that you want canvases for :-)

Seriously though, these canvases are absolutely gorgeous and look WAAAAAY cool displayed on your walls...or make an awsome gift!

Always thinking Christmas arent I??

Let me know if you have done this, and what you think!